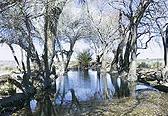 The spring that feeds the town water
Established on the farm Processfontein in 1895, the town was named after Mr J Vos and the Van Rensburg family. More than 22 buildings here are national monuments.
Khoisan Implements

Study Khoisan implements at Mrs van Heerden's home.
Rock Engravings

Keurfontein farm
Vosburg Museum

An old Karoo-style house museum.