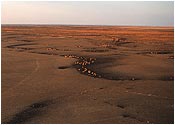 Brandvlei was developed near a Sak River 'vloer' in the heart of Bushmanland where 'Ou Brand', a 19th century trekboer, settled. The town was cut in two by a flash-flood in 1961, recovered, and a municipality was formed in 1962.
Birdlife

The salt pans are transformed into bird sanctuaries after the summer rains (Nov-Mar).
Dutch Reformed Church

Built in Neo-Gothic style.
Lekkerlê and Kans

Two farms exhibiting splendid displays of San rock engravings.
Verneukpan

In 1929, Sir Malcolm Campbell unsuccessfully attempted to break the world land-speed record here by travelling over 300mph in his Bluebird 1.