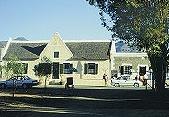 The town is rich in Cape Dutch architecture
Founded in 1851 on the stunning Oorlogskloof River and named after religious reformer John Calvin, Calvinia lies at the foot of the dolerite-topped Hantam Mountains (Hantam being a Khoi word meaning 'where the red bulbs grow').
It is the region's key growthpoint and one of the country's largest wool-producing areas. Like Sutherland, Calvinia enjoys 80% starlight and the night sky is as much an attraction for city-dwellers and astronomers as the rare sterboom is for botanists and horticulturalists.
4x4 Routes

There are various routes, some steeped in Anglo-Boer War history, along the escarpment with picturesque views and San paintings or along the riverbed with huge Namaqua Fig trees clinging to the rock surfaces. A must during spring when thick carpets of flowers adorn the countryside.
Akkerendam Nature Reserve

Offering walks for the fit or the frail, the reserve has two trails across the Hantam Mountain, affording you the opportunity to take in magnificent scenery, study the sterboom and up to 65 species of birds.
Dutch Reformed Church

Designed by Gaysford, a Potchefstroom architect, the church is in neo-gothic style and cost 1 200 pounds to build.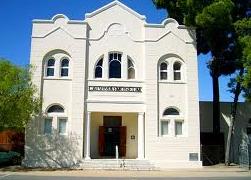 Museum

Housed in the art deco Old Synagogue built in 1920, exhibits portray the lives of the early European settlers. A cedarwood horsemill and a display of mounted Cape fat-tailed, Merino and Dorper sheep relate the history of the area.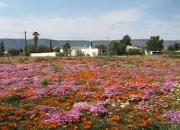 Spring Flowers

During the flower season, up-to-date maps direct flower-lovers to the best shows, eg Toren, Matjiesfontein and Nerasie farms.
Grave of Abraham Esau

Anglo-Boer War martyr.
Hantam House

Built by Field Cornet A van Wyk in 1854, Hantam House is in Cape Dutch style with a concave-convex gable. Retaining its original cedarwood woodwork, traditional delicacies are served in an exclusive coffeehouse built in the original kraal!