Location: 115km south of Upington on the R27.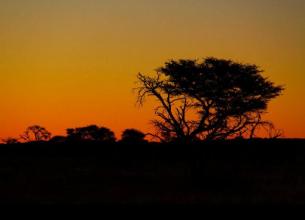 On 27 December 1868, special magistrate Maximillian Jackson, with a police contingent, was sent to act as a bulwark against the Koranna, whose anti-colonial resistance had erupted into open conflict. Jackson arrived in Kenhardt and set up camp under a giant camelthorn tree.
For a long time the most remote settlement in the northwestern Cape, the town developed from under this tree, becoming a municipality in 1909. The Hartbees River, with its many sweet thorn trees, provides a green belt irrigated by the Rooiberg Dam.
The town is at the heart of the Dorper sheep-farming area. There is a Quiver Tree (Kokerboom) forest within easy driving distance. Tours will take you to pans and outlying farms where you can view San artwork and enjoy farm hospitality. 4x4 routes are available near Kenhardt.
Giant Camelthorn Tree
About 500-600 years old, it is the tree under which Magistrate Jackson set up his camp.
Old Library Building
Built in 1897, it was used until 1977 and declared a national monument in 1978.
Quiver Tree Forest and Hiking Trail
About 8km south of Kenhardt on the main route to Cape Town. The forest comprises 4,000 - 5,000 kokerbome. The Kokerboom Hiking Trail leads through the forest.
San Trail
An exclusive guided tour through several hills where San engravings occur, making you walk the trail of the San.
Verneukpan
A vast dry pan on which Sir Malcolm Campbell tried, in Bluebird 1, to set a new world land speed record on 1929.