Location: 40km southwest of Upington on the N14.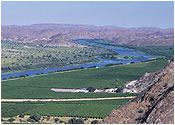 The Verdant Vineyards seen from Tierberg Hill
The town is a settlement on the biggest island in the lower Orange River region. Virtually every inch of soil is under irrigation. Enjoy driving between the many vineyards, a spit-roast, home-baked breads, several traditional desserts and locally produced wines.
The origin of this little oasis's name is in dispute. Legend has it that Klaas Lukas, a Koranna river-people leader, established a village on the banks of the Orange River near the Tier Mountains. He called the village Keimoes (mouse nest) after the colonies of mice living there.
A more probable origin lies in the Nama words 'gei' (great) and 'mus' (fountain or eye). Semantics aside, Keimoes is a picturesque little town often described as a lost piece of the Boland.
Waterwheel
A reconstructed waterwheel is operating at Main Road.
Wine Tasting and Tours
Theses are offered st the Orange River Wine Cellars Co-operative. On the slopes of the Tier Mountain, you will enjoy wonderful views of the river's islands and irrigation scheme.
Contact Northern Cape Travel for more information.
Dutch Reformed Mission Church
On Main Road, built by Reverend Schroeder in 1889.
Tierberg Nature Reserve
The reserve lies 4km from the town on the road to Augrabies Falls National Park. Teeming with Springbok, it covers 160ha and is noted for its many aloes - flowering mostly in winter. Spring sees many succulents in full flower. At the summit of the reserve is a lookout with a marvellous view across the Orange River Valley.