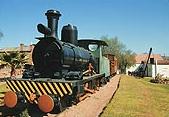 The steam locomotive, Clara, outside the mining museum.
North of Springbok, Nababeep's name combines two Nama words, naba, meaning 'hump of an animal' and bib, meaning 'small spring'.
Mining began in the 1850s and, from 1876, ore was taken to Port Nolloth by train, for export. The mine closed during the copper slump of 1919, but reopened in 1937. It is home to the Okiep Copper Company and the region's largest copper-mining town.
Currently real-time bookings unavailable
Mining Museum

Charts the copper boom. Clara, a narrow-gauge steam locomotive used to rail copper ore to Port Nolloth, is on display.