CampbellLocation Campbell: 48km east of Griquatown on the N8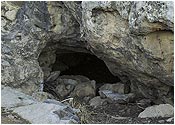 The Old Khoisan Cliff shelters
This village, on the edge of the Ghaap Plateau, was one of the earliest centres of Christianity north of the Orange River. Originally Grootfontein or Knoffelvallei, the town was renamed to honour the Reverend John Campbell, a traveller and missionary who visited the Cape stations of the London Missionary Society in 1813.
Renowned for its spectacular dolomite rock formations, many springs, Karee and Wild Olive trees, Campbell has a multifaceted history and has been home to San, Koranna and, later, Griqua settlers drawn by the springs.
Aloe Nature Reserve

A kloof on the edge of the Ghaap Plateau, now the Aloe Nature Reserve, is mentioned in accounts by early travellers including Burchell and Andrew Smith.
Anglo-Boer War

Visit Fabersput Battlefield, the monument to Kasie Briedenham and grave of Oupa Swartbooi (British spy).
Bartlett's Church

Completed in 1831 and proclaimed a national monument in 1960, it is one of the oldest churches north of the Orange River. Reverends Robert Moffat and David Livingstone both preached from its pulpit.
Griqua Rebellion

Place of the battle between the Settlers and the Griquas in 1878.
Holy Ark Wood

Trees and succulents.
School Building

Built in 1880, now used as community offices.
Tuff Waterfall

Falls and fountain.
Wagon Tracts

Made by pioneer and itinerant traders.
Wildspan Eco-Historical Tours