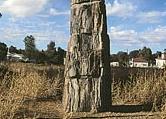 A petrified tree outside the old prison.
Founded in 1863 as a church centre, the town was named after Sir Philip Wodehouse, Governor of the Cape.

Accommodation Philipstown
Khoisan Rock Engravings


Kareepoort

Olievenfontein

Rooipoort

Somerlus

Waschbank
National Monuments

The old prison museum, the magistrate's offices, the Reformed Church and Teichhouse.
Rock engravings

at Rooipoort and Waschbank