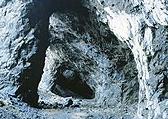 Underground in a worked-out manganese mine.
Location Black Rock:
77 km northeast of Kuruman and 25 km from Hotazel
Twenty-five kilometres from Hotazel, Black Rock is Assmang's underground manganese mining venture, offering sporting facilities and a chance to view a worked-out manganese mine. The mine has its own landing strip.
Black Rock Sport and Recreational Club
Tennis, Bowls, Squash, Golf and Swimming
Manganese Mineral Collection
Assmang Geology Office
Mine Tour
Tour the spectacular tunnels and rock formations of Black Rock's worked-out Manganese mine. Restricted to 20 people. Book well in advance.