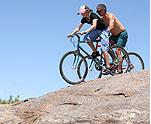 T
his is where the mighty Orange River is at its most impressive as it thunders its way through a ravine and into a pool walled by sheer granite, creating the world's sixth largest waterfall
he falls derived their name from the Khoi word meaning 'place of great noise' which accurately describes the roar as the falls plummet 56m into the ravine. This arid piece of moonscape-like land, awesome and strikingly beautiful, offers the visitor over 15 000ha of unique riverine ecosystems to explore.
The park is essentially a scenic park but various animals and indigenous trees can be seen. Do not plan on just nipping in to see the main falls as there is much more to be seen, experienced and done in the rest of the Park. Various exciting new eco-adventure packages are available to the visitor such as self-drive game drives, night drives, the short Dassie Nature Trail and the 3-day Klipspringer Hiking Trail (closed 1 Oct - 31 March) that takes the hiker from the plateau and into the depths of the gorge.
And for those who seek still more excitement go on the !Garib 3-in-one Adventure which includes canoeing in the gorge, hiking out of it and a mountain bike ride back to the rest camp.
Giraffe, klipspringer and other game are frequently seen while game driving in the park. Accommodation is in self-catering luxurious chalets and there are swimming pools to refresh in after a day's outing.
Travellers can also make use of the à la carte restaurant and curio shop.