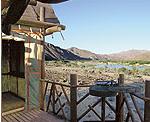 Hauntingly beautiful and seared by a blistering sun, the lava mountains and sandy plains form southern Africa's largest mountain desert park.
In August 2003 an international treaty was signed between the presidents of South Africa and Namibia to form the |Ai-|Ais/Richtersveld Transfrontier Park. This has opened the way for future border crossings within the park.
The pont that will take you across the Orange River is ready and waiting but crossing can only take place once the border officials have been put in place. (This should happen in 2005).
Though surrealistically harsh (this is the driest area in Northern Cape), the rugged Richtersveld side of the park nurtures some 30% of all South Africa's succulent plant species. With less than 50mm of rain each year, it is home to leopards, lizards and adventurers. Paradoxically beautiful, it is a land for those keen to 'rough it'. You can explore it from the comfort of your 4x4 or paddle the river, taking in the awe-inspiring, seldom-seen purity of an unspoilt wilderness.
The opening of the Transfrontier Park has lead to the development of far more comfortable accommodation camps on the South African side and should be open in the first third of 2005. All five camping sites now have full ablution facilities. There are two new wilderness camps, Tatasberg and Gannakourieb, which are fully equipped self-catering camps and at Sendelingsdrift their are 10 new self-catering units. The four surrounding Richtersveld community towns also offer unique new accommodation establishments. Entrance and overnight permits must be obtained at Sendelingsdrift before entering the park.